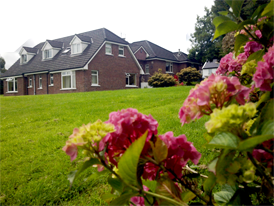 Chestnut Lodge 4 Star Carrigaline Bed & Breakfast is a modern split level dormer architecturally designed house 1 mile from Carrigaline. It is a charming family home where guests are greeted with "A Cead Mile Failte", which means a hundred thousand welcomes. The entrance hall as you arrive sets the atmosphere for the rest of your stay. There is a clever mix of old and new, which blends together to create a warm yet chic reception room. The guest bedrooms (all downstairs) all en-suite are bright and spacious, are charmingly decorated.
A good night's sleep is guaranteed on semi-orthopaedic beds, followed by a good power shower to start your day refreshed. All rooms have TV. and tea and coffee making facilities. For guest use then there is an inviting south facing sun lounge which provides a comfortable and relaxing atmosphere to read, watch TV. or just chill out. This lounge opens on to a sheltered sun-trap patio, where if you are an early riser, you will hear "The Dawn Chorus" like you've never heard before.
Why Choose To Stay At Chestnut Lodge B&B Carrigaline?
This Carrigaline B&B is an ideal base for any visitors in the South. So easy do day trips to West Cork or Killarney. It is just 10 mins from Cork International Airport, and 5 mins. from Ringaskiddy car ferry. Our Carrigaline Bed & Breakfast is situated 12 mins from Cork city centre with a regular bus service from Carrigaline. All facilities are on your doorstep including banks, post office, dry cleaners, restaurants and the bars where on certain nights, you can enjoy great music or sing song.

WALKS.
There are some lovely scenic walks in the area,
Firstly, the old railway line from Carrigaline to Crosshaven has been transformed to into a beautiful riverside walk with picnic tables, seating and railway memorabelia and wildlife viewing points. This walk has recently been tarmacked and one can follow the saltwater winding course of the Owenabue Estuary as it careers from Carrigaline to Crosshaven and Cork Harbour.
Crosshaven is home to the oldest yacht club in the world. It's called The Royal Cork Yacht Club. It incompasses many sailing activities for young and old from dinghies to keelboatsand biannually hasts a sailing event that attracts participants from all over the world. On the course of this estuary is the famous Drake's Pool. It's linked to Sir Francis Drake who in 1743 sought refuge in this hideaway from Napoleonic forces as they patrolled Cork Harbour.He escaped their attention and lived to fight another day. Today Drake's Pool is a popular shelter point for contemporary yachts and boats mainly connected with the R.C.Y.C.
CURRABINNY WOODS
Here we have a beautiful natural amenity on our doorstep, just 4 miles away.The woods are situated on a peninsula where one can feast their eyes on the beauty that surrounds them. There are great views of Crosshaven from accross the harbour, as well as Spike Island ( which served as a prison for some time) and the majestic steeple of Cobh Cathedral..In the woods there's a pre-historic burial cairn known as Giant's Cave. The foreat trails are wide and airy and the Autumn colours on the mainly decidious trees prove to be an Artist's dream. The main walking circuit takes approx. 1 hour.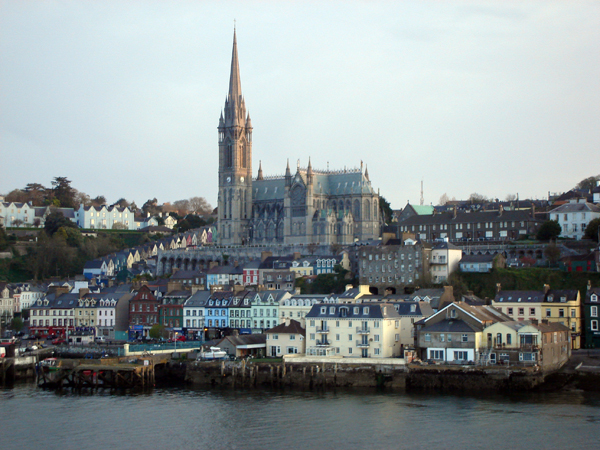 COBH
Cobh whih is approx 10 mins away can be reached by cross river ferry at a cost of 6 euro return is dominated by St. Colman's Cathedral. Cobh (pronounced as cove) was formerly known as Queenstown was the last port where passengers were collected before the ill fated Titanic maiden voyage. The Heritage Centre here is a must for anyone interested in it's history.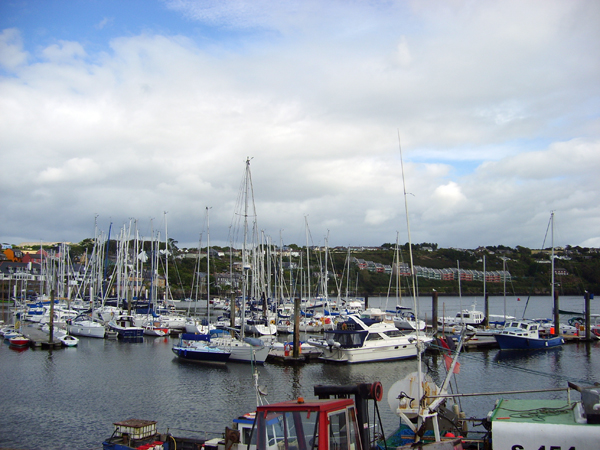 KINSALE
Kinsale is approx 12 miles from Carrigaline. A very historic town. Contains amny fine restaurants and is known as the Gourmet Capital of Ireland..The streets are pretty and narrow and is involved in fishing and nautical activities.
RINGASKIDDY
Ringaskiddy which has a deep berth custom built infrastructure Ferryport has sailings to Swansea and France. It is home to many of the world's largest pharmaceutical companies as well as many other businesses including Pepsi.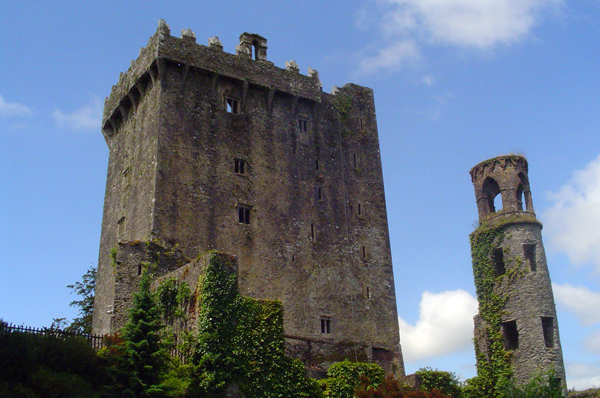 BLARNEY
Blarney is approx 16 km from Carrigaline and is famous for it's 12th century castle. This is home to The Stone of Eloquence and once kissed bestows the Gift of the Gab on the kisser.
FOTA
Fota wildlife Park houses approx 90 species of wildlife and is a must for young and old. Fota House if also worth a visit.
Besides all the above , we also have on our doorstep a childrens playgroung in Carrigaline. Horseriding ,Greyhound track, and if weather is not accomodating there is a variety of multi screen cinemas as well as the famous Opera house and Everyman Theatre.
GOLF
This Carrigaline Bed & Breakfast is surrounded  by at least 15 golf courses all within 30 mins drive.Many of these would be rated as among the best in the country, including Fota Golf Cluf where the Irish Open was held a couple of years ago. We also have to mention The Old Head of Kinsale.